rechargeable heated insoles
App-Controlled Warming For Your Feet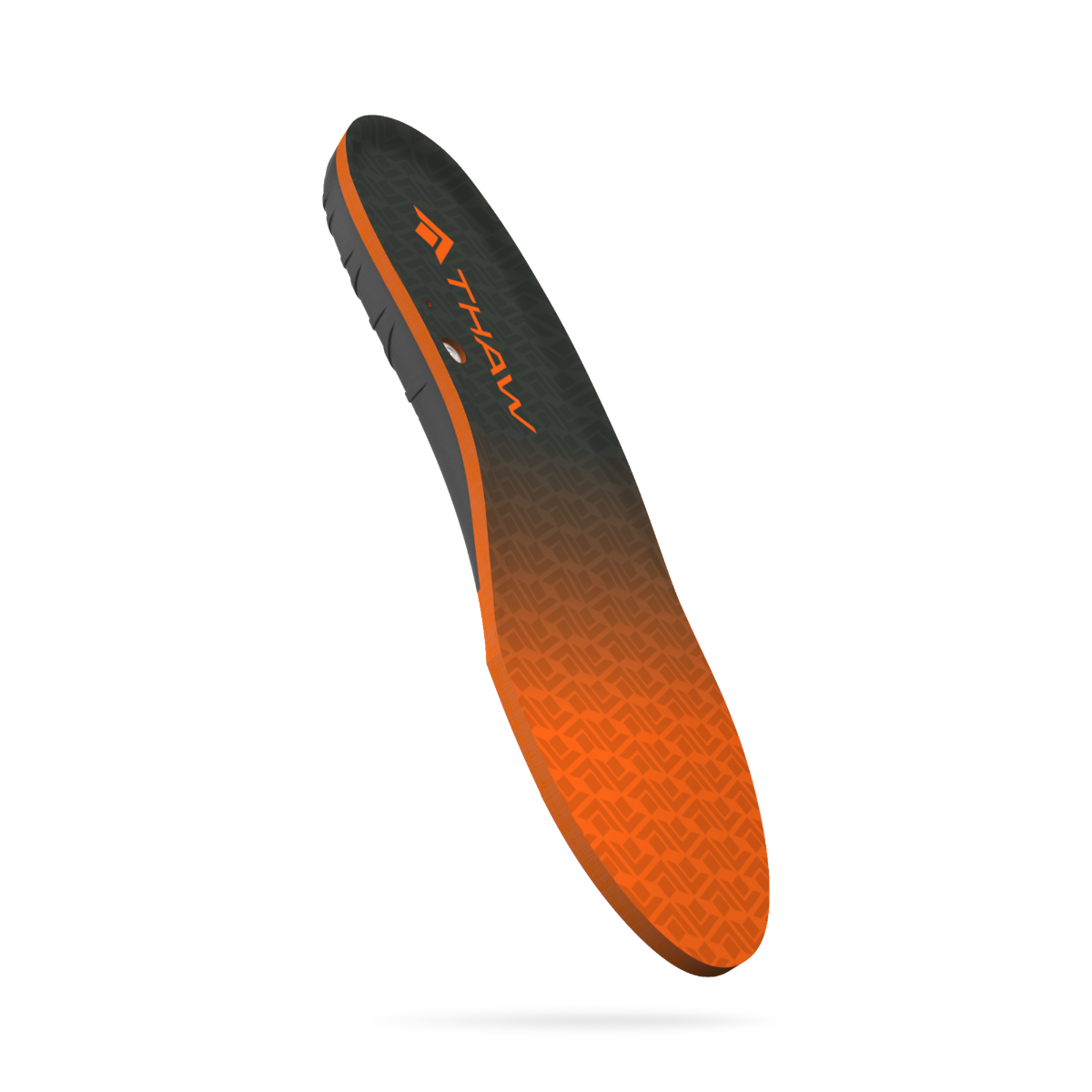 THAW Bluetooth™ enabled heated insoles provide app-controlled warming for your feet. They are fully adjustable to keep you completely comfortable...no matter what temperature you select. Available for Android and iOS platforms, the THAW app also monitors battery life, streams weather forecasts and allows you to share devices with friends. Staying warm has never been so easy.
rechargeable hand warmers
usb-c rechargeable hand warmer and power bank
The dual purpose USB-C rechargeable Hand Warmer and Power Bank by THAW comes in two sizes (small or large) and is built to keep you warm and your USB powered devices charged. With double-sided heat, your hands will stay toasty no matter what the elements throw at you.
heated seat pad
heated cushion to keep you comfortable and cozy
Your outdoor activity just got a lot more enjoyable with the Rechargeable Heated Seat Pad. Comfortable enough for any season, this Seat Pad also features a USB connection that can generate up to 17 hours of heat when connected to a power bank. Sit down, relax and enjoy your outdoor activity with comfort and warmth.
heated stadium seat
heated seat for cold days at the game
Don't let the cold sideline your enthusiasm! THAW's Rechargeable Heated Stadium Seat was designed to be the perfect companion to combat those cold, uncomfortable bleachers with an innovative design and game-changing features.
heated scarf
heated scarf to keep warm on-the-go
You might be wondering why you'd need a heated scarf when you have a regular one or a built-in collar on your coat. Allow me to explain and you'll wonder why you didn't think of this sooner.
The THAW Heated Scarf was purposefully designed to deliver rapid warmth and superior comfort in cold conditions more effectively than the average scarf or collar on a coat. Much like the cooling effect of an ice pack on the neck during hot weather, our scarf optimally targets this same area with heat in cold weather conditions for a soothing warming effect.
heated wrap
heated wrap for at-home comfort
Say goodbye to chilly sporting events and drafty airplane cabins. The THAW Heated Wrap takes your beloved electric blanket, untethers it from a wall outlet and elevates it to a whole new level of versatility. The warmth and softness you love can now travel with you thanks to an innovative design and a rechargeable 10000mAh power bank. The wrap has 3 heat modes reaching up to 131°F (55°C) and a max run time of 8 hours!
disposable
Air-Activated Disposable Warmers
Don't "Bundle Up"..."Bundle Off" with our air-activated disposable warmers. Our unique chemistry compound makes our disposable warmers last longer than others. When opened, air reacts to the ingredients inside to create a safe and long lasting heat so you can get on with your outdoor activities. Use them all day then dispose of them easily. With THAW Disposable Warmers, you don't have to let cold stand in your way.
OUR industry leading app
precision control
An innovative new way to stay warm! Bluetooth enabled smart heating insole devices from THAW pair with the fully capable THAW Gear app providing precise industry-leading temperature control and weather reports.